Disaster Preparedness
Emergency Preparedness Guide
Earthquakes, wildfires, floods, and terrorism are examples of unexpected disasters that can result in catastrophic loss of life and property. Although we cannot predict when these disasters will occur, we can be prepared. The City of Aliso Viejo is dedicated to protecting lives, property, and the environment before, during, and after a disaster. The City works closely with regional emergency management partners like the Orange County Sheriff's Department, Orange County Fire Authority, and members of the community to enhance resiliency and improve preparedness.
This guide provides critical information that empowers residents to take ownership in their personal preparedness. When community members are prepared, our emergency management system and first responders are better able to respond to a disaster. Disaster ready residents are able to contribute to the overall safety of our City and be a resource to their family, friends, neighbors, and coworkers in a disaster.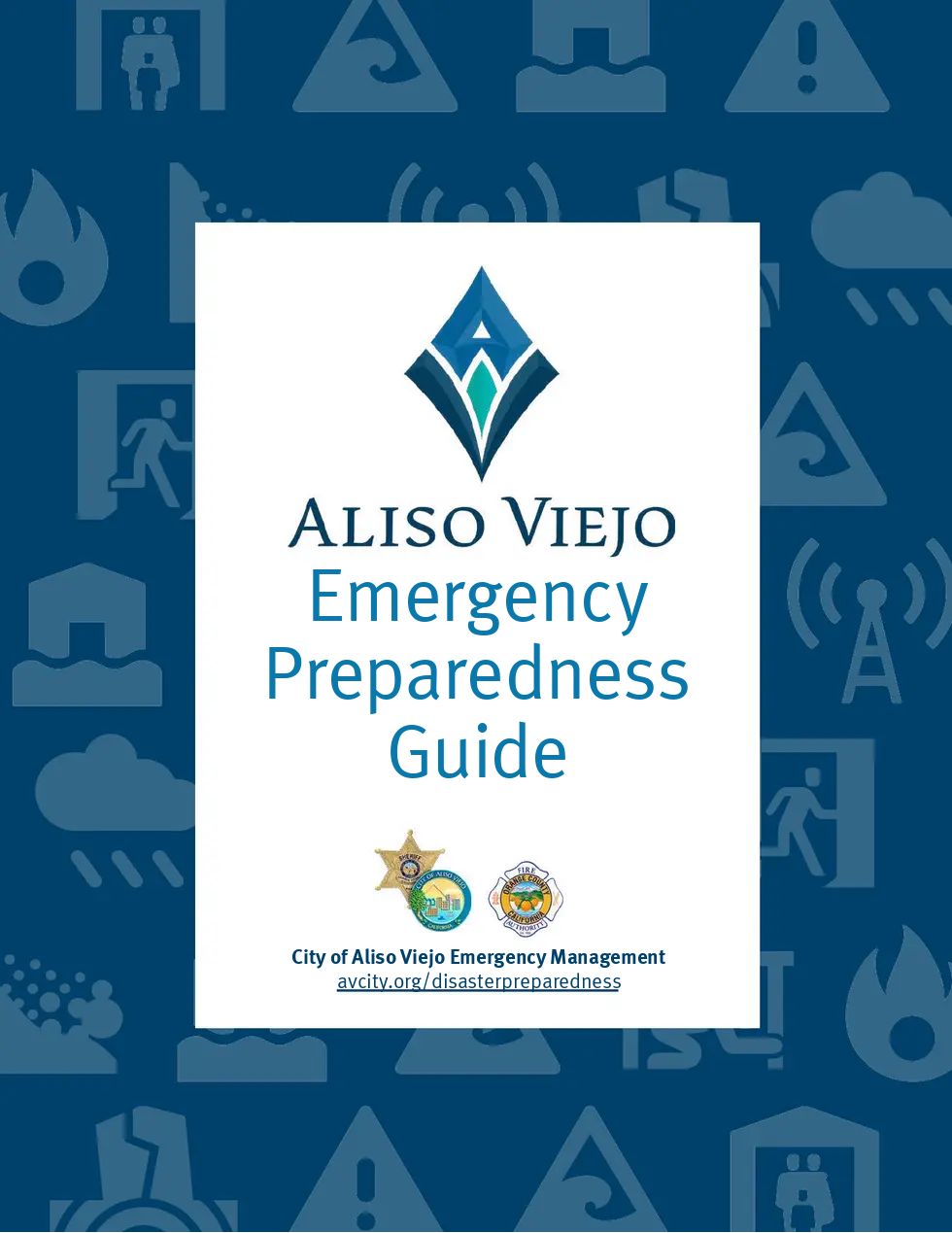 Disaster Preparedness Backpacks
Kick start or enhance your disaster preparedness by purchasing a Disaster Preparedness Backpack today! The City of Aliso Viejo sells prefilled, customized backpacks for $50. Click here to purchase.
Contents:
N95 masks (x2)
Nitrile Gloves (x2 pairs)
12-Hour Light Stick (x2)
4-in-1 Gas & Water Shut Off Tool
Bio Hazard Bag
54 Piece First Aid Kit
Roll of Duct Tape - 10 Yards
Adult Emergency Poncho (x2)
Large Solar Blanket - 84' x 52' (x2)
Personal Hygiene Kits (x2)
4-in-1 AM/FM Radio, Flashlight, Siren, & Phone Charger
Folder For Critical Paperwork
Fillable Household Emergency Plan
Aliso Viejo Specific Hazard & Preparedness Info
Extra pockets to add items specific to your household
The purchase price reimburses the City of Aliso Viejo for the costs associated with the procurement of the products included in your backpack. Email questions to DisasterPrep@AVcity.org or call 949-425-2598.
Hazard Specific Preparedness Flyers

Disaster Preparedness for Your Business
According to the Federal Emergency Management Agency (FEMA), roughly 40% to 60% of small businesses never reopen their doors following a disaster (FEMA), but it doesn't have to be like this in Aliso Viejo! The price of preparing your business is far less than the cost of being unprepared. These websites have free tools and templates to assist with creating your business continuity plans, evacuation and shelter-in-place plans, preparing and training your employees and protecting your investments:
Your business can also partner with the City in disaster preparedness, response, and recovery! If you're interested in being a resource to the City of Aliso Viejo in a disaster, email Disaster Preparedness to find out how.